REMEMBER – Only the Land Rates increase under OPTION 1
Not the charges for water, sewer, stormwater or waste.
The cost of living is going up. How has this been addressed?
While the total rates income would increase by 42%, Council has wound back the increase for residential, business & farmland. These would increase
by 26.5% (24% plus 2.5%; the average rate peg).
Council offers the Pensioner Rebate Scheme, which financially supports this important cohort in our community. If, an application for a Special Rate Variation is submitted to IPART and approved, the Pensioner Rebate will increase by 20% from $250 to $300. In addition, Council also has a Hardship Policy to accommodate the special needs of those unable to pay their rates in full on time.
If an increase of 26.5% for residential and other rate categories happens, what amount will be asked for the following year?
Option 1 is for a total increase of 24% plus the expected rate peg of 2.5% to residential, business and farmland rates starting from 1 July 2023. In future years,
rates would only increase over your 23/24 land rate by the amount approved by the NSW Government. Council has forecast a figure of around 2.5% for this. But, this is not a council decision.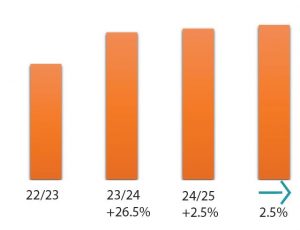 If my land value has increased, does it mean my rates will definitely go up?
No, it depends on how an individual land valuation changes when compared with the average valuation change for the local government area. Generally, properties
whose land valuation increase is lower than the average increase may see a reduction in rates. However, properties whose valuation increase is higher than the
average for the LGA may see a rise to rates.